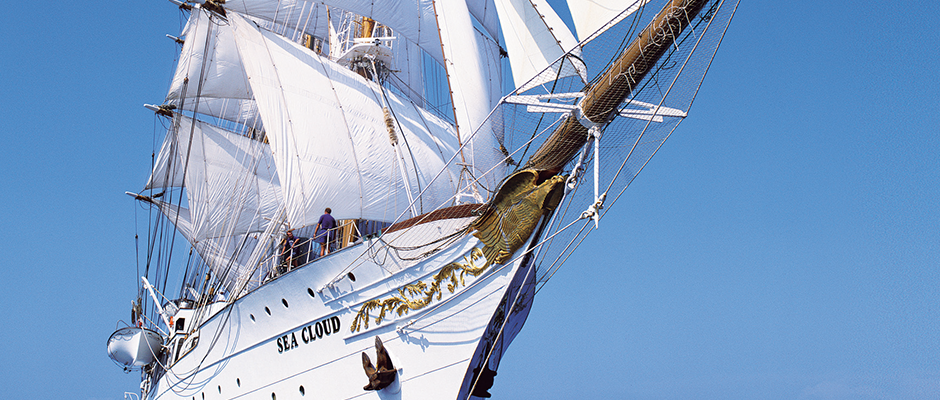 Ja, ich will! Auf der Suche nach einmaligen Locations für den schönsten Tag im Leben hat der Luxusreiseveranstalter art of travel einen Vorschlag, der freie Fahrt ins Eheleben garantiert: Ab sofort können Verliebte an Bord der Traumyachten Sea Cloud und Sea Cloud II rechtsgültig getraut werden. Die Zeremonie wird dabei vom Kapitän höchstpersönlich geleitet, um alle romantischen Details kümmert sich das Team von art of travel. Dabei sind der Fantasie keine Grenzen gesetzt. Wer sich rechtzeitig um seinen Hochzeitstermin kümmert, kann sogar eine der beiden Yachten komplett chartern und mit einer Gesellschaft zwischen 64 und 94 Personen stilvoll in das Eheleben hinein segeln, Anker werfen für das ewig Glück zu zweit inklusive.
Die rechtsgültige Trauung an Bord der Windjammer Sea Cloud oder Sea Cloud II ist für Passagiere ab einem Preis von 1.995 Euro zu buchen. Im Wedding-Package enthalten sind neben der feierlichen Zeremonie mit dem Kapitän auch alle vorab notwendigen Behördengänge und –gebühren, eine Flasche Champagner sowie ein Champagnerfrühstück auf der Kabine, ein romantisches Dinner für zwei an Deck sowie ein Trauungsempfang inklusive Champagner und Canapés. Preis für den Komplettcharter der Schiffe auf Anfrage. Die beiden Luxusyachten Sea Cloud und Sea Cloud II gelten als das Non plus Ultra unter Segelfans und aufgrund ihrer limitierten Gästezahl als exklusivste Möglichkeit, die Meere zu entdecken.
Weitere Informationen unter www.artoftravel.de sowie telefonisch unter +49- (0)89 – 2110 760 und +49 – (0)4108 – 413 6080.
Copyright: © art of travel