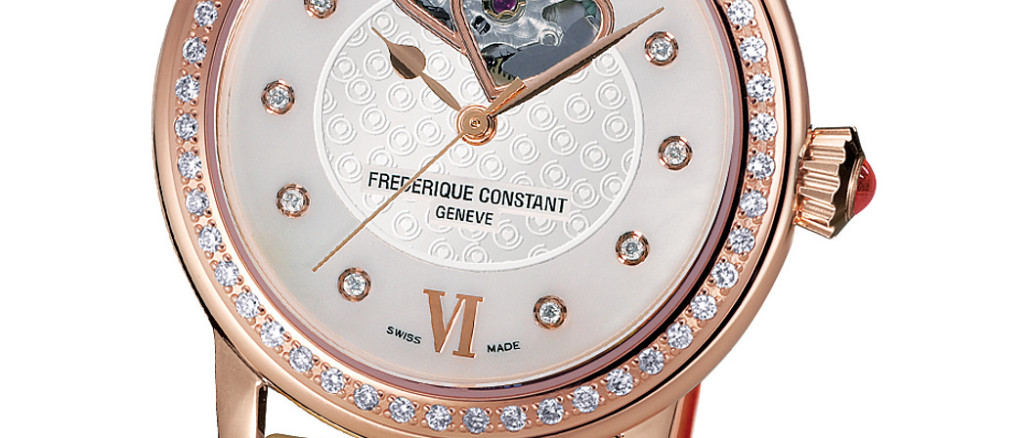 Die Kollektion "Ladies World Heart Federation Automatic" besteht aus vier einzigartigen und wunderschön designten Uhren aus dem Hause Frédérique Constant zur Unterstützung der Kampagne "Hearts of Children". Alle neuen Modelle wurden vom automatischen Aufzug des Modells FC-310 inspiriert, das herausragende Genauigkeit, Zuverlässigkeit und Langlebigkeit sowie 38 Stunden Gangreserve bietet und bis 60 Meter wasserdicht ist. Ohne Frage eine zeitlose Schönheit.
Die Uhren sind mit einem silbernen Zifferblatt und einer spektakulären "Double Heart Beat"- Öffnung auf der 12-Uhr-Position ausgestattet. Durch die durchsichtige Rückwand aus Saphir- Kristall ist der in Rosé-Gold vergoldete Rotor zu bewundern. Er trägt eine filigrane Gravur mit dem Logo der World Heart Federation, einem besonderen "Hearts of Children"-Emblem mit Sonnenzierschliff. Das 34 mm-Gehäuse und das Zifferblatt sind mit acht per Hand applizierten Diamanten des Reinheitsgrades VS versehen; der Außenring ist aus luxuriösem Perlmutt. Zu guter Letzt werden alle neuen Modelle in einer eigens entworfenen, herzförmigen Geschenkverpackung der World Heart Federation angeboten.
Von den beiden Edelstahlmodellen wird das Modell FC-310WHF2P6 mit einem auffälligen dunkelgrauen Satinarmband mit rotem Innenfutter und Faltschließe angeboten. Wohingegen die FC-310WHF2PD6, dank der 48 zusätzlichen Diamanten mit Reinheitsgrad VS in der Lünette, definitiv den "Wow-Faktor" besitzt und sich mit einem hinreißenden Armband aus weißem Kroko mit rotem Innenfutter und Faltschließe präsentiert. Diese Uhren ziehen mit Sicherheit alle Aufmerksamkeit auf sich.
Das Modell FC-310WHF2P4 in roségold plattiert, besticht durch seine sanfte harmonische Schönheit. Dagegen lässt die Uhr FC-310WHF2PD4, jedes Frauenherz höher schlagen. Die 48 Diamanten der Reinheit VS in der Lünette bilden einen wunderschönen Kontrast zum in Rosé- Gold plattierten Gehäuse. Beide haben ein abgesetztes, vanillefarbenes Satinarmband, ein rotes Innenfutter und eine Faltschließe.
Die Sache ist gut, die Not ist groß
Frédérique Constant ist stolz, die "World Heart Federation" bei ihrem Kampf gegen kardiovaskuläre Erkrankungen, darunter insbesondere Herzkrankheiten und Schlaganfall – weltweit Todesursache Nummer eins – zu unterstützen. Die Partnerschaft ist eine gemeinsame Verpflichtung, um das weltweite Bewusstsein für erkrankte Frauen und Kinder, als den verletzlichsten Teil unserer Bevölkerung, zu wecken. Wir teilen eine Leidenschaft, Menschen über ihr Risiko aufzuklären und dabei zu helfen, jedes Jahr den sinnlosen Tod von Millionen Menschen zu vermeiden. Unsere gemeinsamen Bemühungen zielen darauf ab, Familien mehr sinnvolle und gemeinsame Zeit zu ermöglichen.
Copyright by Frédérique Constant