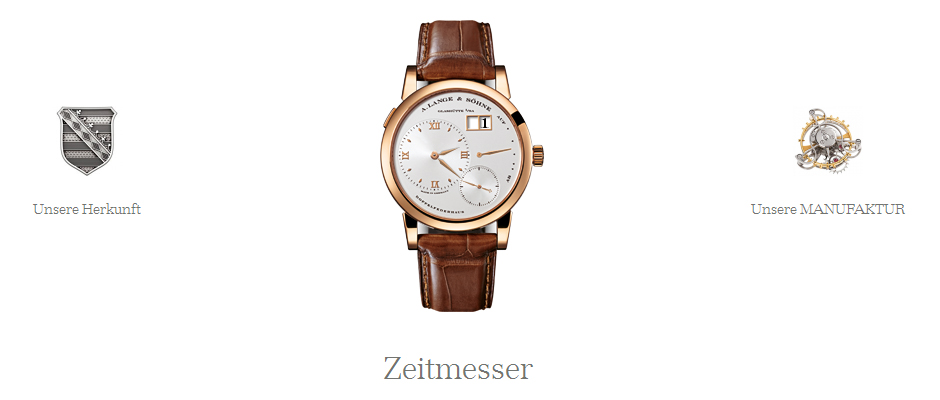 Mit der begehrten Auszeichnung "Red Dot: Best of the Best" in der Kate­gorie "Corporate Website" hat der neue Internetauftritt von A. Lange & Söhne die Anerkennung für höchste Gestaltungsqualität erhalten.
Eine digitale Bühne für das Streben nach Perfektion im Analogen – das war die An­forderung an die neue Website der sächsischen Uhrenmarke A. Lange & Söhne. Ihre Zeit­messer, die zu den besten der Welt gehören, sollten im Zentrum der Inszenierung stehen. Diese Leitlinie definierte den gestalterischen Ansatz und die Tonalität.
Der minimalistische Eindruck der Startseite ist beispielhaft für das ästhetische Konzept des gesamten Webauftritts. Viel Raum und wohldosierte Interaktionen lenken den Blick auf das Produkt. Ausgehend von der Uhr im Mittelpunkt entfaltet sich das Universum der Marke mit ihren vielfältigen Facetten. Vom Eintauchen in das Innere der Uhrwerke bis hin zu den Geschichten hinter ihrer Entstehung füllen die Themen stets das gesamte Browser­fenster aus. Und das auf sämtlichen Endgeräten – vom Desktop über das Tablet bis hin zum Smartphone.
Der "Red Dot Award: Communication Design" ist einer der weltgrößten Design­wettbewerbe. Bereits seit 1954 zeichnet das heutige Design Zentrum Nordrhein West­falen herausragende Gestaltungen aus. Der begehrte "Red Dot" hat sich als inter­national an­er­kanntes Qualitätssiegel im Bereich Kommunikationsdesign etabliert. Unter 6800 Ein­reichungen aus 49 Ländern ver­gab die international besetzte Expertenjury ledig­lich 62 Mal den "Red Dot: Best of the Best", die Auszeichnung für höchste Ge­staltungs­qualität in einer Kategorie, das entspricht 1,06 Prozent der gesamten Ein­reichungen. Den Preis für die beste Unternehmenswebseite nahm Lange-Marketing­leiterin Katharina Mack am 18. Oktober 2013 bei der feierlichen Verleihung im Konzert­haus Berlin entgegen.
A. Lange & Söhn www.alange-soehne.com | Copyright © 2010 LANGE UHREN GmbH