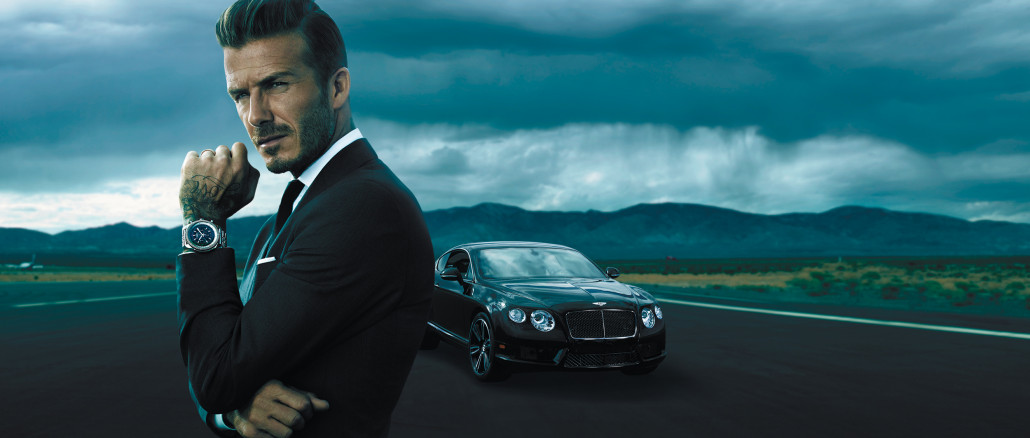 Er ist Brite, er ist ein Star, er ist Botschafter der Uhrenmarke weltweit und er steht auf einem aussägekräftigen Visual, das dieses aussergewöhnliche Universum widerspiegelt, im Rampenlicht.
Seit ihrer Lancierung 2003 vereinigt die Chronografenkollektion Breitling for Bentley Mechanik vom Feinsten und die Quintessenz britischen Stils. The Essence of Britain. Made in Switzerland by Breitling. Um die unnachahmliche Allianz von Eleganz und Luxus, Klasse und Originalität auf sämtliche Kontinente hinauszutragen, gibt es keinen Besseren als die weltbekannte Ikone David Beckham, der zum Symbol par excellence des britischen Chics geworden ist.
So tritt der Star auf dem Visual der neuen, von Anthony Mandler in der Wüste Kaliforniens realisierten Werbekampagne auf. Ein grimmiges, originelles und frappierendes Porträt, das den Geist von Breitling for Bentley umfassend wiedergibt.
«Mein Ziel war es, Beckham als Helden darzustellen, als starken maskulinen Protagonisten, erklärte der berühmte Fotograf aus den USA. Ich wollte die stärksten Seiten der Breitling Kommunikation übernehmen und sie mit den stärksten Facetten von Davids Image und Persönlichkeit kombinieren.»
Die auf Nachhaltigkeit ausgerichtete Partnerschaft zwischen Breitling for Bentley und David Beckham kommt nicht von ungefähr. «Ich war einer der Ersten, der einen Breitling for Bentley Chronografen erwarb, erläutert Beckham. Ich mag das Zusammenspiel von ultraleistungsstarken Motoren, die Schweizer Spitzenkönnen reflektieren, und athletischer Ästhetik. Ich war schon immer ein grosser Bewunderer von Breitling und seinem Vermächtnis.»
Fotos (c) by Breitling.com